Cosplay Collection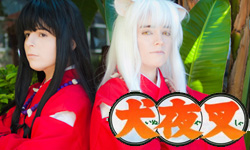 The moon plays it's trick on our favorite hanyou hero, bring forth his humanity. Both versions of this beloved anime brought to you by Foxy Cosplay.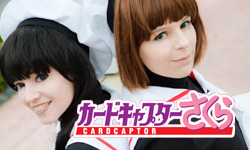 Transforming the Clow cards isn't the only thing on these girls minds this evening. Best of friends, bringing out the best in each other!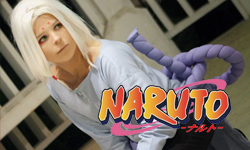 Ties of blood and anguish are the only companions of the hollowest of Sound Ninja. Crazed and deseperate souls, brought to life by FoxyCosplay
2011 Cosplay Gallery

This series is one of Maria's favorite and there are so many wonderful cosplays to pick from it that we could not pick just two. The night and day class uniforms were all commissioned and the wigs styled by us. For Shizuka the kimono was made by Maria. Kaname Kuran, Zero Kiryuu, and Shizuka are cosplayed by Maria and Maria Kurenai is cosplayed by Aimee, as of present.

Foxy Cosplay, your source for steamy fan service now presents - CC and Lelouch, in nothing but their undies and a white over-shirt. This one is sure to please.

Moonlite cooridors sooth the heated air between Saya and Haji as they Waltz the night away. Our Foxy cosplayers nearly had their breath stolen by the sweet atmosphere, while recreating the loving relationship between these two beautiful characters.

Foxy Cosplay dons beautiful Japanese silks, puts on their makeup and pull back their hair for an elegant night in kimono. Things take a sexh turn, as they always do, in the spirited evenings of New Orleans.

Youthful energy abounds, strength of heart and eyebrows bushier than toy poodles. Foxy Cosplay is more than pleased to show the stregnth of the most handsome of leaf ninja, Might Gai and Rock Lee.

Tied into the world of the Deathnote, Light and Misa dodge the genuis detective L, as the most wanted of murderers, Kira. Time to bring these characters from, the blockbuster movie, to life; it's rather ironic really.

Saya's return to her first home, The Zoo, uncovers heart aching truths about her origins. Her past is unveiled along with her deadly twin sister, Diva. FoxyCosplay recreates the encounter between the two chiropteran queens at the beautiful Mercer Arboretum & Botanic Gardens.

More than talking was going on, that evening between Yuki and Shuichi, in the low lit hotel room. Push aside the pillows, and pull up the popcorn – Time for some sizzling fan service.

Wild hearts can't be broken, a testament to the defiant and headstrong woman of the Sohma household – Rin. The horse bought to life beautifully by our own Marikasan.

Time for some elegance; the lighter side of everyone's favorite Earl is shown when he treats his aunt to a quiet afternoon in his family's summer home. This event is not to be missed, as it will be one of the last warm memories he may cherish before all is torn apart.

The sleeping beauty meets her own dream, Ixtli. When she is ready, time will become hers to develop, she will fulfill her own destiny as Ollin. Sing, RahXephon, sing your song! The song that is forbidden! Sing, RahXephon, so that someday all will become one!

Dressin' up, Dressin' Down! That's what these boys do, while Toru is fine to smile and wave, Mikoto pouts in the background. A fun cosplay all around, and great to spend at our first con together, Anime Matsuri 2011

Things aren't always about the next cup of tea, or beautiful sculpture to blow up. Sometimes you need to sit and enjoy the simpler things in life... Like a trip to the zoo, or even a picnic with the ones you don't hold so dear.